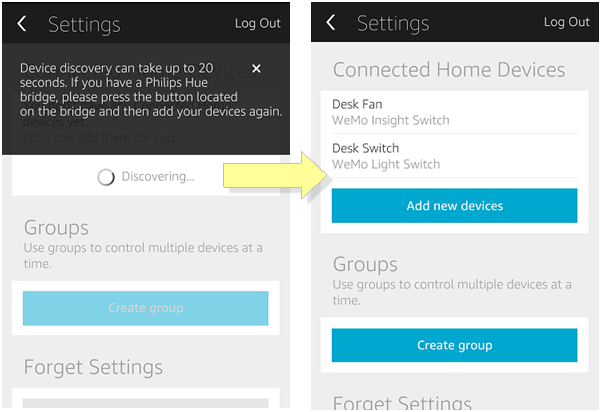 Dears
I'm Hans SHIN, currently developing IoT device such as Smartthings, Wemo, etc.
Firstly Amazon echo connects to the local wi-fi AP, and also WeMo device(for example) connects to the same AP.
In the Alexa application, when user selects the "Add new devices" as above, Alexa is discovering the devices then, showing the "Connected Home Devices" as above(the last screen).
quick question.
How the Alexa can show/search the device list in wi-fi AP? (as above "Desk Fan, Dest Switch")
There has already had the detail information, like "WeMo Insight Switch, WeMo Light Switch".
Dose the Alexa perform the UPnP or SSDP? or WeMo device can wi-fi advertising with special information periodically?
or is there any collaborate a special implementation between the Alexa and WeMo?
in the list, only show Alexa supported devices?
What if I develop some wi-fi device which is cloud based one, what I shoud implement addtionally?
Sorry for many question.
Please let me know that. if any document, it could be great.
Thanks
Hans